Easiest Way to Prepare Delicious Salmon Burgers
Salmon Burgers. These salmon burgers had a really good flavor and they were quick, easy and inexpensive to make. I added a little more dijon and an extra egg to bump up the flavor and help them stick together a little more. In a small bowl, combine the first eight ingredients.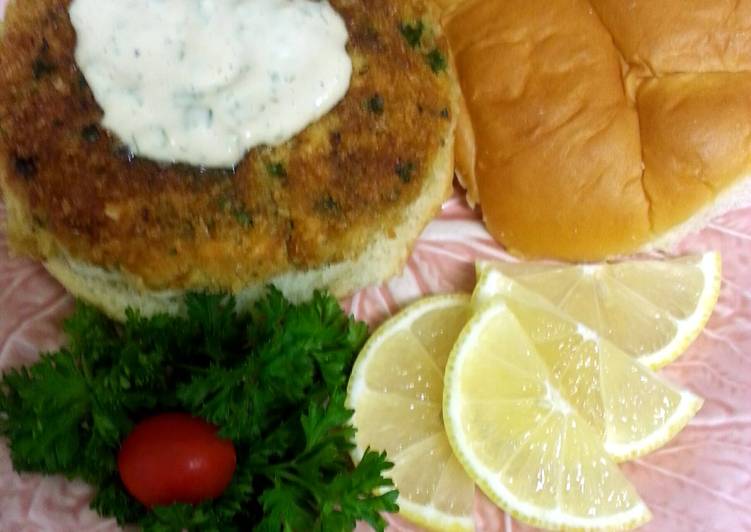 It is one of the best salmon burger recipes, including restaurant versions. The fresh taste of seafood and the tangy and bright. The roasted red pepper mayo would be good on veggie burgers oe sandwiches as well. You can have Salmon Burgers using 15 ingredients and 13 steps. Here is how you cook it.
Ingredients of Salmon Burgers
You need 2 1/2 lb of fresh whole salmon fillet.
Prepare 3 1/2 cup of panko crumbs.
You need 6 of scallions (green and white parts separately).
Prepare 2 large of ribs of celery (finely chopped).
It's 1/4 cup of fresh flat leaf parsley (chopped finely).
You need 2/3 cup of mayonnaise plus 1/2 cup mayonnaise for sauce.
It's 1/4 tsp of pepper.
It's 1/4 tsp of salt.
Prepare 1/2 tsp of old bay seasoning.
It's 1/4 tsp of cayenne pepper.
Prepare 4 large of eggs, beaten.
Prepare 6 tbsp of olive oil.
You need 4 tbsp of butter.
Prepare 2 tbsp of balsamic vinegar.
Prepare 3 tsp of fresh dill (chopped finely).
I will use this recipe in place of my usual salmon patties. Bacon, barbecue sauce, and blue cheese are a beef burger's best buds, assertive enough to stand up to the taste of medium-rare chuck, but switch a burger's central protein to something more refined—salmon, say—and a whole bunch of slathering possibilities present themselves. Many salmon burger recipes use canned salmon, but since the salmon is the star of this dish, we found that it was well worth the additional modest expense and effort required to make our burgers with fresh salmon. Burgers made with canned salmon were lackluster (to say the least) and mushy, while those made with fresh salmon were moist and full.
Salmon Burgers instructions
Preheat oven to low broil or 500º..
Salmon Preparation***Rinse and pat dry whole salmon fillet and place on foil lined baking sheet..
Squeeze the juice of 1 lemon over entire fillet. Add 2 tsp. granulated garlic, 2 tbsp old bay seasoning, 2tbsp fresh dill (finely chopped) and 1/4 tsp black pepper over fillet..
Broil salmon fillets for 15 minutes and check doneness. Broil for another 5-10 minutes until flaky tender and cooked through..
Remove salmon from oven and let cool. Flake entire fillet off of skin and put in a large bowl..
Salmon Burger Preparation***Using fork, mix in 1/2 cup panko, the scallion whites, celery, parsley, 2/3 cup mayonnaise, 1/4 tsp salt, 1/4 tsp black pepper, 1/2 tsp old bay and 1/4 tsp cayenne with flaked salmon in the large bowl..
Refrigerate for 30 minutes..
Shape the mixture into 8 big patties. In a bowl, mix the remaining panko, and 1 tsp salt. (I added 4 tbsp finely chopped parsley just for color) In another bowl beat 4 eggs and set aside..
Coat the patties with the panko, then the eggs, then the panko again..
In a heavy skillet (cast iron works best) heat half the butter and olive oil together over medium heat. Add 3 or 4 salmon patties and cook until golden brown about 3-4 minutes each side. Drain on paper towels. Repeat with the remaining butter, oil and patties..
Sauce preparation*** Mix remaining 1/2 cup mayonnaise, scallion greens, balsamic vinegar, dill and a dash of salt & pepper. Serve sauce on bun or alongside of patties..
Garnish with lemon slices..
(I used Hawaiian hamburger buns-sweet bread-with these and they turned out amazing!).
In medium bowl, beat egg and milk with fork or wire whisk. Stir in remaining ingredients except oil. For the burgers: Combine all of the salmon burger ingredients, except the coconut oil, in a large bowl and mix well. Patties easily fall apart until they are cooked. Heat coconut oil on a griddle or pan to medium-high heat.