How to Cook Yummy Hawaiian Roll Sliders
Hawaiian Roll Sliders. These wonderful little rolls are baked until lightly toasted and the cheese melts. The leftover King's Hawaiian ham sliders keep really well in the fridge, and they make a lovely cold snack. Followers of my blog, houseofyumm.com, go nuts for these! —Serene Herrera, Dallas, Texas Hawaiian rolls are a guilty pleasure of ours: buttery and so addictive.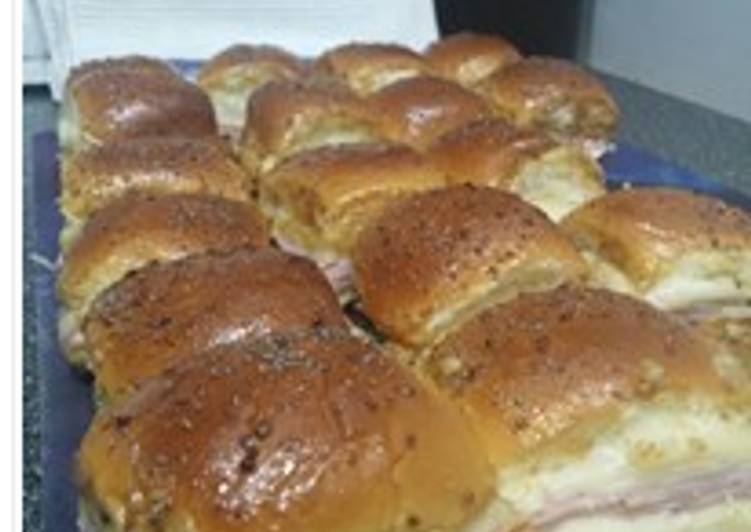 When it comes to party food, Hawaiian Roll sliders are usually my go to. They are easy to make in a big batch, and there are so many different variations! Ham and Cheese Sliders are probably the most popular of Hawaiian sliders. You can have Hawaiian Roll Sliders using 9 ingredients and 9 steps. Here is how you achieve that.
Ingredients of Hawaiian Roll Sliders
You need Package of Hawaiian rolls.
You need of Deli Virginia ham.
You need of Swiss cheese.
You need of mayo.
Prepare of melted butter.
It's of Dijon mustard.
Prepare of brown sugar.
You need of Worcestershire sauce.
You need of Poppy seed.
You know the ones with ham, gooey cheese and a delicious butter and poppy seed topping all baked together. Place a slice or two of ham and slice of swiss cheese in roll. Replace the top of the rolls and bunch them closely together into a baking dish. Place bottom half of rolls in baking dish.
Hawaiian Roll Sliders instructions
Pre heat oven to 400 degrees..
Add roll to baking sheet.
Slice whole Hawaiian roll as one piece (much faster slicing and prepping each one individually)..
Add ham, cheese, mayo to inside of roll.
In mixing bowl add melted butter, Worcestershire sauce, brown sugar, Dijon mustard and whisk..
Brush over mixture to top of rolls..
Sprinkle with poppy seed..
Bake for 8- 10 minutes or until cheese melted and slightly brown..
Cut individually for slider enjoyment.
Our Original Hawaiian Sweet, Honey Wheat and Savory Butter Dinner Rolls are perfect for any family meal, holiday celebration or barbecue. In a bowl, mix together butter, Dijon mustard, Worcestershire sauce, poppy seeds, and dried onion. Separate the tops from bottoms of the rolls, and place the bottom pieces into the prepared baking dish. Layer about half the ham onto the rolls. Arrange the Swiss cheese over the ham, and top with remaining ham slices in a layer.