How to Prepare Appetizing Fun'ky' Pesto Burger
Fun'ky' Pesto Burger. Fun'ky' Pesto Burger A tribute to one of the best veggie burgers I have ever had. Every ingredient in this recipe screams Italian! Once you're happy with the texture, roll out patties with the mixture into sizes based on the previous calculation (see Fun'ky' Pesto Burger recipe).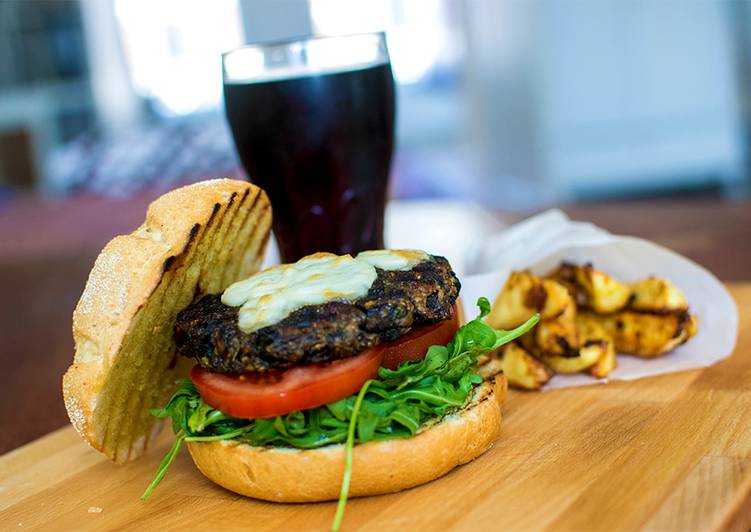 One of the greatest contributions of the Mexicans (besides Salma Hayek, of course!) is in making the humble bean a world phenomenon, with a flavour profile like none other. Here is my tribute to Mexico. between a bun. The house made "Hippie Stuffed Burger" is a special blend of lentils and black beans, that comes stuffed with tempeh sausage and pesto. You can cook Fun'ky' Pesto Burger using 19 ingredients and 9 steps. Here is how you achieve that.
Ingredients of Fun'ky' Pesto Burger
You need 500 gms of Button mushrooms -.
Prepare 1 of Onion -.
You need – 3 cloves of Garlic.
Prepare 1 tablespoon of Parsley (chopped) -.
You need 1/4 cup of oats Instant -.
You need 1/4 cup of Breadcrumbs -.
It's 1/4 cup of Parmigiano Reggiano (shredded) -.
You need 1 teaspoon of Oregano -.
Prepare 1 teaspoon of Cayenne powder -.
It's 1 of Egg -.
Prepare 1 tablespoon of Olive oil -.
You need 1 teaspoon of Balsamic vinegar -.
It's 1/2 cup of pesto Fresh green -.
It's 1 of tomato Ripe -.
You need 200 gms of Buffalo mozzarella -.
You need 1 bunch of Rocket Rucola Arugula / / -.
Prepare 3 of Sesame seed buns -.
It's as required of Salt -.
Prepare as required of Pepper -.
This burger didn't try to be something it wasn't, and it was. Comanda burgeri de la Funky Burgers Iasi. Poti comanda online Burgers Hot Dogs Cartofi funky. A Funky Little Food Shack Welcome A Funky Little Food Shack A seasonal roadside food shack serving up creatively inspired food, supporting local farms, community and fun as much as possible.
Fun'ky' Pesto Burger step by step
Prep the mushrooms by dusting off any loose dirt with a paper towel. NEVER RINSE MUSHROOMS! They are like sponge and absorbs all that liquid which will stew them (in step 3) instead of caramelizing them. Chop up the mushrooms into roughly 5 mm cubes..
Chop the onion finely and crush the garlic cloves and add them to the mushrooms..
In a pan over high heat, drizzle some olive oil and dump the mushroom mixture. Season with salt and pepper and stir once every 1-2 minutes without reducing heat. When the water starts appearing, make a small well in the middle of the pan to let it evaporate faster. After all the water has evaporated and the mushrooms take on a beautiful brown colour (roughly 8-9 mins), turn off the heat and let the mixture cool down in the same pan..
Once cooled, take in a bowl and add the parsley, oats, breadcrumbs, cayenne, oregano, parmesan cheese and egg. Mix this to form a squishy, chunky mixture resembling the consistency of atta with too much water..
Prepare patties from this mixture and place them on a baking paper lined plate. The size of the patties depends on your preference. If you ask me, there is a sweet spot between 1/3 patty+2/3 bun and 1/2 patty+1/2 bun ratios. We need to hit that; so consult your bun for exact size! :P.
Once the patties are prepared, refrigerate them for at least 30 mins for the flavours to combine and the patty to harden. Meanwhile, mix the olive oil and balsamic vinegar in a bowl for basting and prepare a workbench for assembly. Toast your buns by lightly brushing them with oil and pressing on a hot grill for about 30 seconds..
Once out of the fridge, baste one side of the patties with the oil-vinegar mixture and slap it basted-side down on a hot grill. Once on the grill, brush the other side as well. This may be a good time to preheat your oven to 230'C (gas mark 8). Grill the patties for a good 1 minute per side until it is well charred..
Once charred to your liking, place a few slices of mozzarella (again, personal preference!) and stick the patty into the oven for 10 minutes until the cheese is melted and takes on a golden colour like so..
Rest the patty for 5 minutes at room temperature and now it's just a matter of assembly! Serve with crispy baked garlic fries and a fizzy drink of your choice..
THE BEST. homemade corn-chowder I've ever had; farm fresh… Pesto. For fresh, lively flavor, consider smearing pesto onto your burgers. This will give you some oleocanthal, a compound found in extra virgin olive oil that has been shown to have strong anti-inflammatory properties. There is also a hefty dose of antioxidants found in pesto greens like basil. A food truck is like a restaurant on wheels.