How to Prepare Tasty skye's blackbean meatless "burger"
skye's blackbean meatless "burger". Great recipe for skye's blackbean meatless "burger". a healthier alternative to a regular hamburger. totally yummy. and so easy to make. perfect for a lunch or dinner. just all kinds of yummy awesomeness! See more ideas about Veggie recipes, Recipes, Healthy. There's so much flavor between the sautéed onions, bacon and eggs, and the actual burger meat itself..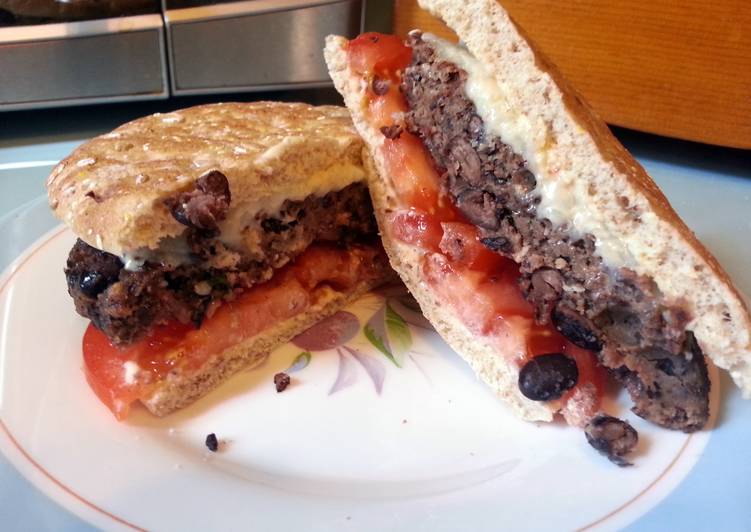 The texture is nearly marshmallowy: tender, but with a chew and a pull that gives in to a satisfying bite without getting in the way of the burger (or other sandwich fillings). I've tried making a loaf with lentils before, this is world's beyond what I have tried. I did saute the veggies so. You can have skye's blackbean meatless "burger" using 7 ingredients and 8 steps. Here is how you cook it.
Ingredients of skye's blackbean meatless "burger"
Prepare 1 cup of blackbeans (drained and rinsed).
You need 1/4 cup of of your favorite breadcrumbs.
It's 1 of egg.
Prepare 1/2 tsp of minced garlic.
You need 1 pinch of (or more) of each onion powder, paprika, red pepper flakes, salt and pepper (these are the spices I use.. you can add to or swap out with your favorite spices).
Prepare 2 tbsp of light olive oil (to cook your "burgers").
It's 1 of couple tablespoons of your favorite shredded cheese to melt on top (optional).
I am a classically trained chef who specializes in vegan and cruelty-free recipes & cooking. I have worked in many restaurants over the years and I love to share what I have learned. When I'm not in the kitchen I love spending time with my beautiful wife and two dogs. Seniors Lucy Prince, Madeline Curd, Abigail Mitchell, and Kaylie Love won the National NASA HUNCH Culinary Competition with their dish, Moroccan Chicken Tangine.
skye's blackbean meatless "burger" step by step
divide your beans in half… and place 1/2 cup of them, and the minced garlic, in food processor and pulse for a minute..
in a medium bowl.. put the remaining beans, the beans from the food processor, breadcrumbs, egg and spices and mix well..
divide that mixture in half… and form two round patties..
heat your oil in a skillet or griddle on medium high heat and then add your patties. cook them for 2 – 3 minutes on each side until browned and cooked through (remember that there is an egg in there… and you do want your "burgers" to have a nice brown crispness on the outside)..
when patties are done… sprinkle on your cheese, turn down the heat and cover.. it should only take a minute or so for the cheese to melt..
get out your favorite bun (I like a multigrain thin bun)… put on your favorite condiment (I take 2 tsp of light mayo and mix it with 1 tsp dijon mustard and a pinch of paprika. .. for each burger)… top with tomatoes or lettuce or whatever you want..
cut in half… and enjoy… just yum!.
this recipe is very easily doubled also to make 4 "burgers"..
This recipe is an absolute revelation. It can be veggie (vegan, in fact) it can be healthy (very healthy, in fact) and, it can be over the top delicious. The "burger" is not gooey or falling apart or mushy – it has the consistency of a real, "meaty" burger and it tastes ridiculously good. A travesty unparalleled in modern history. A travesty unparalleled in modern history.