How to Prepare Yummy 3 Cheese Pesto Chicken Pizza
3 Cheese Pesto Chicken Pizza. In a small skillet, saute onion and red pepper in oil until tender. Top with onion mixture, olives, cheeses and tomatoes. I used an entire package and another handful of cheese and added torn fresh basil leaves as well on the top.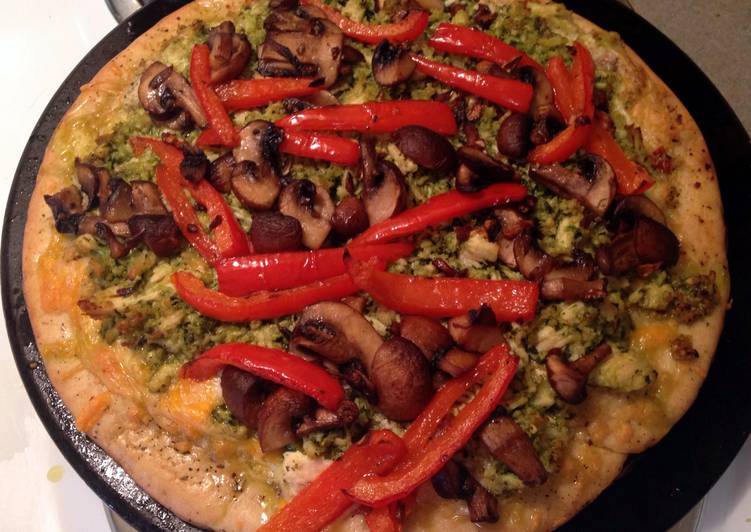 We're obsessed with this tasty vegetarian pizza recipe and it can be made with naan, pita, or your favorite flatbread. Place the pesto onto the pizza dough and spread it around the surface of the pizza. Sprinkle the cheese evenly over the pizza. You can cook 3 Cheese Pesto Chicken Pizza using 11 ingredients and 6 steps. Here is how you cook that.
Ingredients of 3 Cheese Pesto Chicken Pizza
Prepare 1/2 cup of Shredded Cheddar Cheese.
You need 1/2 cup of Feta Cheese.
Prepare 1 cup of Shredded Mozzarella Cheese.
Prepare 3 cup of Shredded Chicken (see my chicken salad recipe for technique).
Prepare 1 large of Sliced Red Pepper.
You need 1 cup of Chopped mushrooms.
Prepare 5 clove of Chopped Garlic.
It's 1 tbsp of Salt.
You need 1/2 tbsp of Pepper.
It's 1 large of Precooked or Fresh Pizza Dough.
It's 1/2 cup of Fresh Pesto.
Spread roasted garlic on pizza crust (mash it and spread), and top with pesto sauce. Arrange chicken, and tomatoes over this, and top with sliced chicken breast. If you like a little bite, sprinkle with red pepper flakes. Spoon a thin layer of the walnut pesto over the top and layer with the pepper jack cheese slices.
3 Cheese Pesto Chicken Pizza instructions
Preheat Oven to 425°F..
Sauté chopped garlic in EVOO until light golden brown and spread lightly on pizza dough as a base..
Spread thin layer or cheddar, mozzarella, and feta cheese..
Sauté shredded chicken with pesto and spread on pizza..
Sauté red pepper and mushrooms and spread on pizza. Add salt and pepper to taste..
Bake until pizza crust is golden brown for 10 – 20 minutes depending on crust. Remove from oven and let stand for 10 minutes. Eat and Enjoy!!.
Sprinkle the grilled chicken on top and a little bit more pepper jack cheese. Line a baking sheet with parchment paper or a silicone baking mat and set aside. Spread pesto evenly over flatbreads or pizza crust. Sprinkle evenly with mozzarella, top with. Toss the chicken in the remaining pesto and add the chicken, then top with remaining mozzarella and the pine nuts.