Recipe: Appetizing Pesto Pepperoni Pizza
Pesto Pepperoni Pizza. Pepperoni Pesto Pizza made with homemade pizza dough from an online Craftsy class! We love making pizza at home and have been experimenting with baking on pizza stones and even on the grill last summer. We love to do everything homemade when it comes to this pesto pepperoni pizza.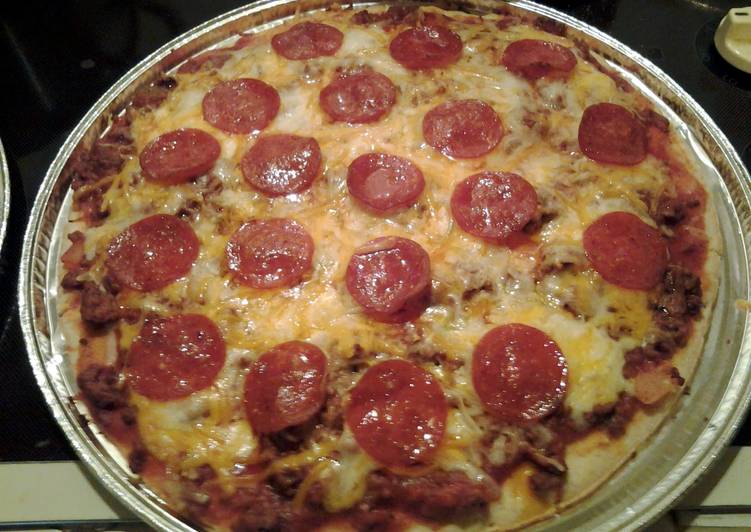 To make two pizzas, you'll need thin and crispy pizza bases, pizza tomato paste, shredded pizza cheese, pepperoni salami and basil pesto. Place a pizza base on each tray. The pepperoni pesto pizza is so flavorful. You can cook Pesto Pepperoni Pizza using 12 ingredients and 9 steps. Here is how you achieve that.
Ingredients of Pesto Pepperoni Pizza
Prepare 1 lb of lean ground meat.
You need 1/4 cup of trinty mix (onion green pepper red pepper).
Prepare 1 can of 15oz tomato sauce.
It's 1/4 tsp of garlic powder.
It's 1/4 tsp of onion powder.
It's 1/4 tsp of ground black pepper.
It's 2 tbsp of Philadelphia cooking cream (pesto).
It's 1 packages of pepperoni.
It's 1/4 cup of shredded mozzarella.
You need 1/4 cup of shredded cheddar blend.
You need 1 packages of pre made pizza crust.
It's 1 of extra virgin olive oil.
The crust gets nice and crispy and the fresh mozzarella melts nicely. They are affordable and taste amazing. Top with the shredded mozzarella, pepperoni, jalapeno slices and torn mozzarella. Transfer the dough onto the baking sheet.
Pesto Pepperoni Pizza instructions
preheat oven to 450°F.
mix together meat, garlic powder, onion powder, and black pepper. Brown meat in a large skillet add trinity mix as soon as meat is completely brown..
cook until trinity mix is translucent then add tomato sauce and simmer on low heat for 10 minutes.
lightly brush pizza crust with olive oil then spread creamy pesto all over the crust.
layer meat sauce on top of pesto layer.
layer cheeses on top of meat sauce layer.
layer pepperoni on top of cheese and place pizza in the oven.
lower oven temp to 425°F. and bake for 15 to 20 min or until pizza is nicely browned.
remove pizza from the oven let cool and enjoy..
Remember, it's pizza, so it doesn't have to be perfect. Top with the shredded mozzarella, pepperoni, jalapeno slices and torn mozzarella. Add egg whites, Parmesan cheese, basil, oregano and pepper to bowl; stir to combine. Spread mixture on pizza pan, pressing lightly to edge of pan with hands to resemble pizza crust. Spread pesto over crust; top with cheese and drained tomatoes.