Recipe: Perfect Rob's Green Onion Cheese in the crust Pizza
Rob's Green Onion Cheese in the crust Pizza. To assemble pizza, place the crusts on the lined baking sheet and top with the buffalo jackfruit. Add the onion and bell pepper. Top the pizza(s) with sliced avocado, minced parsley, and green onions.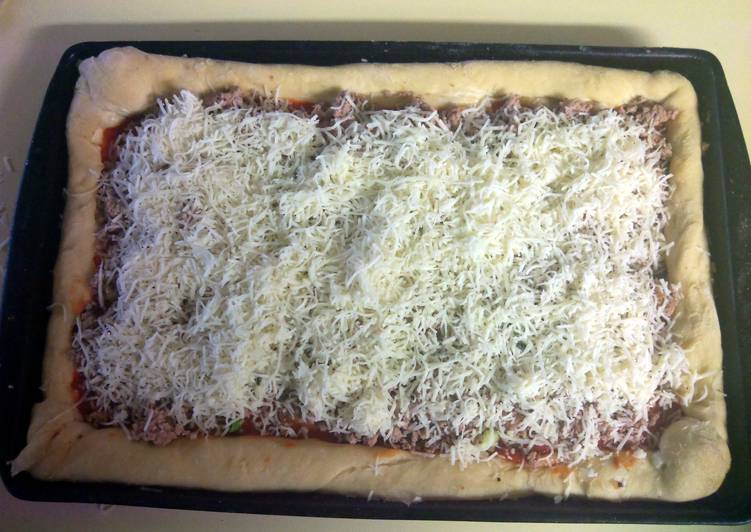 Alfredo sauce, feta and Parmesan-Asiago cheeses, fresh baby spinach and onion toppings. In this video I'm sharing with you the best cauliflower pizza crust that won't fall apart. The pizza gets so hard so fast in the oven even when you follow the recommended time. You can have Rob's Green Onion Cheese in the crust Pizza using 7 ingredients and 8 steps. Here is how you cook that.
Ingredients of Rob's Green Onion Cheese in the crust Pizza
You need 1 bag of of shredded mozerella cheese.
You need 2 lb of white bread pizza dough (made from bread machine recipe).
Prepare 1 lb of ground turkey.
You need 1 can of mushrooms.
It's 1 can of pizza sauce.
It's 2 each of green onions.
It's 6 each of string cheese.
For a supreme pizza they barely put toppings. Food & Snacks Frozen Food Frozen Pizza Jack's. NOW OPEN Dine-In, Carryout, Curbside Pick-Up, & Delivery In a large bowl, combine water and yeast. Add in the flour, salt and olive oil stirring with a spoon until the dough comes together but is still sticky.
Rob's Green Onion Cheese in the crust Pizza instructions
Make pizza dough in bread machine per instructions.
Layout pizza crust and roll string cheese into crust, then bake for 5 min in oven 350°F to brown crust..
Put pizza sauce on crust.
Put mushrooms on top of pizza sauce.
Put chopped green onions on sauce.
Add ground turkey on sauce.
Cover all toppings with whole bag of shredded cheese.
Bake pizza at 400°F for 20-30 minutes, or until bottom crust is golden brown.
SAUCE OPTIONS: Red Sauce, Alfredo -or- BBQ. With onions, green peppers and cheese. Grilled tomatoes, artichoke, eggplant, onions, mushrooms and green peppers over fresh spinach with croutons and parmesan cheese. Sprinkle cooked sausage, cheese, green onions, and parsley around the rounds. Let stand for a few minutes.