Recipe: Tasty Fala'philia' Burger
Fala'philia' Burger. Fala'philia' Burger A crunchy falafel burger with hummous that will change the way you see these golden fritters from heaven! Arun Subramanian Den Haag, The Netherlands. In a pan over high heat, drizzle some olive oil and dump the mushroom mixture.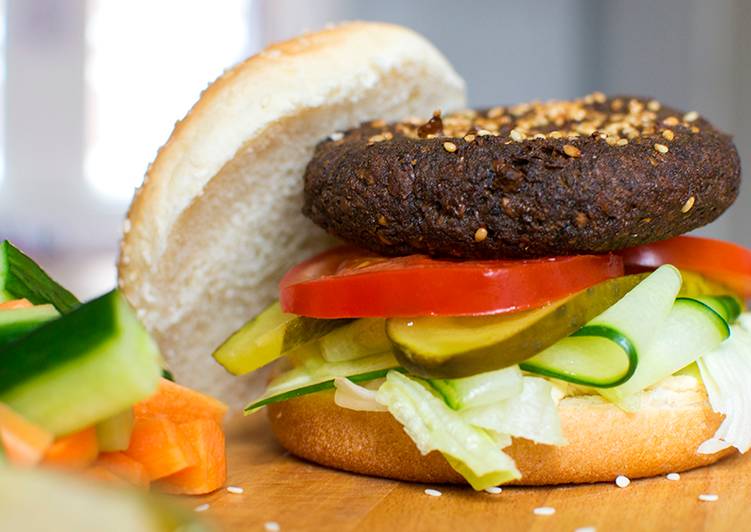 Here is my tribute to Mexico. between a bun. A spicy Indian twist to the classic Italian dessert. You can have Fala'philia' Burger using 25 ingredients and 13 steps. Here is how you cook that.
Ingredients of Fala'philia' Burger
You need 250 grams of chickpeas Dried.
You need 1 bunch of Parsley (leaves and stalks).
Prepare 1 bunch of Coriander leaves.
It's 2 teaspoons of coriander seeds Whole.
You need 2 teaspoons of cumin seeds Whole.
You need 1 teaspoon of Baking soda.
It's 2 tablespoons of Breadcrumbs.
Prepare 3 teaspoons of dill Dried   leaves.
It's 1 of onion Medium-sized.
It's 5 cloves of Garlic – 6.
Prepare 1 teaspoon of Sesame seeds.
You need to fry of Sunflower oil.
You need to taste of Salt.
It's 1 tablespoon of water.
You need 1 tablespoon of flour.
It's 100 grams of chickpeas Boiled and peeled.
It's 3 cloves of Garlic – 4.
It's 1 tablespoon of Tahini.
It's 3 teaspoons of Lemon juice.
Prepare 1 tablespoon of Olive oil.
Prepare to taste of Salt.
You need of Iceberg lettuce.
Prepare of Tomato.
It's of Cucumber.
It's of Dill pickle.
Fala'philia' Burger step by step
Soak the dried chickpeas overnight until they double in size. Do not use cooked chickpeas (eg: canned ones) for making falafel; they'll become soggy and won't have body..
Crush the chickpeas in a food processor/blender COARSELY until they are the size of whole peppercorns. Ignore the peels..
In an itsy-bitsy tempering pan :), toast the coriander and cumin seeds until fragrant and grind them coarsely on a mortar pestle (or mixer)..
Time to mix up the dry ingredients: Add the ground spices, baking soda, breadcrumbs, dried dill leaves and salt to the ground chickpeas and mix  until very well combined..
Roughly chop up your greens. This is a good recipe to use up all those parsley stalks in your fridge after the leaves have been used up..
Chop up the onion and garlic and throw them in with the leaves into a blender. Blend until a smooth green pesto-like consistency is achieved..
Mix the wet and dry ingredients together very well. At this point, if the mixture is too moist, add a tablespoon of regular flour. If it is too dry, let it rest for about 10 minutes and check consistency again; the salt in the dry ingredients will draw out the moisture from the greens. If still dry, add a little water. Basically, we want a wet cookie dough like texture..
Once you're happy with the texture, roll out patties with the mixture into sizes based on the previous calculation (see Fun'ky' Pesto Burger recipe). This recipe should be enough for four 1cm thick patties. Strew sesame seeds over the patties and pat them gently with your finger. Refrigerate these open in a fridge for at least 1 hour..
Meanwhile, let's get to making the hummous. Add the cooked chickpeas and garlic (chopped) into a blender and pulverize until a smooth yet thick paste-like consistency..
Now, add the tahini, lemon juice and salt and continue blending. When the tahini has thickened, the mixture will no longer move about in the blender. At this point, slowly drizzle in the olive oil while the blender is running and let it go for 10 seconds. This will make the hummous paste-like yet light (because oil+aeration = fluffiness)..
With the hummous ready, let's prepare for assembly! Since we'd like to have cucumber but not compromise on the thickness and bite factor, shave ribbons of cucumber using a vegetable peeler. Don't toast your bun for this burger. Make sure they're warm yet moist (like a pita bread!).
Bring the oil to temperature and drop in the patty. Quickly reduce the heat to between low and medium-low. Let it fry for a good 3-4 minutes per side. Crank up the heat for the last 30 seconds to give the patty its trademark golden brown colour and crispness. Take out and drain on a strainer for about 5 minutes..
Now we're ready for assembly! Serve this bad boy with some veggie sticks and slightly diluted (see tips below) hummus..