Recipe: Yummy Pesto And Ricotta Pizza
Pesto And Ricotta Pizza. Cook the pizzas until the ricotta just begins. In a small bowl, combine ricotta and Parmesan cheeses. Spread pesto over the pizza base.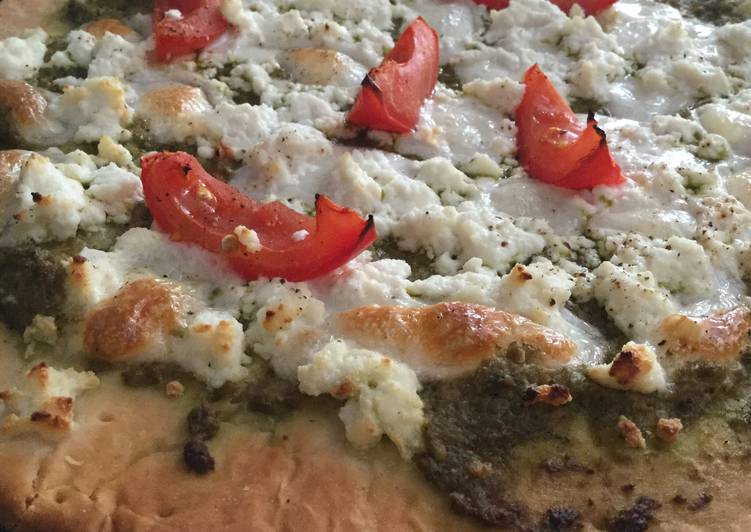 In a small bowl mix ricotta, garlic powder, and basil until well blended. Add salt and freshly ground black pepper to taste. Place the pizza stone on the centre shelf your oven. You can have Pesto And Ricotta Pizza using 8 ingredients and 3 steps. Here is how you achieve that.
Ingredients of Pesto And Ricotta Pizza
Prepare 1 of Pizza base.
It's 4 tbsp of Pesto Allla Genovese.
You need 60 grams of Mozzarella cheese.
Prepare 3 tbsp of Ricotta cheese.
Prepare 1 of Tomato, sliced in 4.
You need 1 of Salt.
It's 1 of Pepper.
Prepare 1 of Fresh herbs, to serve.
Sprinkle the greaseproof paper with polenta and roll out the dough to fit the paper, turning it over and sprinkling it with polenta several times so it won't stick. Spread chicken mixture evenly over pesto. Top evenly with mozzarella and tomato slices, and dot with ricotta mixture. Remove pizza from grill, and top with basil.
Pesto And Ricotta Pizza step by step
Preheat the oven to 190°C (Gas Mark 5 / 375°F)..
Spread the pesto evenly across the pizza base, and sprinkle over the grated cheese. Add a few dollops of ricotta, and the sliced tomatoes. Season with a little salt and plenty of black pepper, and bake for 30 minutes, or until the cheese is golden brown and crispy..
Serve topped with fresh herbs if desired..
Carefully slide the bases onto the baking sheet and cook following pack instructions. Five mins before the cooking time is up, scatter over the ham, dot the ricotta on top in spoonfuls and continue cooking. Season and drizzle the pesto over each pizza. Line a baking tray with baking paper. Top with pumpkin, tomatoes and dollops of ricotta.